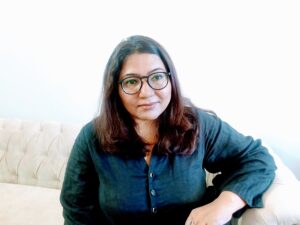 Tasleem is a therapist based in Karachi. She has completed her Masters in clinical psychology from University of Karachi. Additionally she has done an Advanced Diploma and Supervision Diploma in Humanistic Integrative Counseling from the Centre of personal and professional development (CPPD) UK, Pakistan Chapter.
She has been practicing as a private counselor since 2012. She is also working as a clinical supervisor with CPPD. She believes that every person is created to live a life of passion and purpose in addition to being free of psychological, emotional and relational struggles. She is passionate about providing individual and family counseling to those dealing with trauma, sexual/emotional abuse, substance abuse & neglect, relationship pain as well as anxiety, stress, addiction, codependency, isolation, depression, grief and bereavement.
She combines Humanistic, Psychodynamic, EMDR,IFS,PIT ,Art and Play therapy to deal with various issues according to the unique need of the individuals to heal and to set them free from intense emotional pain.
Tasleem provides a positive therapeutic approach where clients begin to see their own life as unique and beautiful, worthy of unconditional love and deep meaning. Integrative therapy seeks to balance personal, relational, vocational, emotional and spiritual components. Issues brought to counseling lose strength as the client grows in purpose and meaningful relationships.
She believes that each person deserves a life of authentic healing and freedom. She enjoys working with diverse individuals, regardless of faith or age.
SPECIALTY : Mental Health Counseling, Anxiety, depression, grief and Bereavement, Trauma, Relationship issues, addiction, codependence and clinical supervision

EDUCATION: Masters in clinical psychology; Advance Diploma in Humanistic Integrative Counseling;  Diploma in Clinical Supervision; EMDR Practitioner; ICAP ( International Addiction Professional)

FEE RANGE : Sliding Scale

TYPE OF SESSIONS : Face to Face and online

VIEWS :