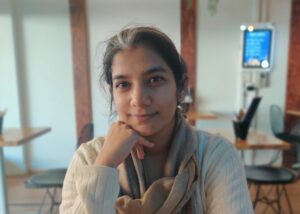 Tooba Fatima holds a Master's in Counseling Psychology from Boston College, USA, where she was a Fulbright scholar. Her practice is rooted in warmth, empathy, and non-judgemental curiosity towards her clients.
Tooba sees the work of therapy as connecting with the full spectrum of one's emotions–pleasant and unpleasant–find expressing them in healthy ways. Rooted in a Psychodynamic approach, she is interested in her clients as whole and complex human beings. She invites exploration of early attachment and learned relational and behavioural patterns, with the hope of developing new ones in the present.
Tooba works with adults navigating trauma, depression, grief, stress & anxiety, relational issues, attachment, and self-reflection. She specialises in working with PTSD, C-PTSD, childhood abuse, and high-conflict relationships. She is trained in Psychodynamic therapy, Internal Family Systems, Solution-Focused Brief Therapy, and Mindfulness-based interventions. Her work often incorporates breathwork, mindfulness, and play therapy techniques to help clients connect with their body, creativity, and joy.
She is registered with the Psychotherapy & Counselling Federation of Australia, and as an international affiliate with the American Psychological Association.
To find out more about her work, please visit: www.toobafatima.com.au
To book an appointment, please email toobazf@gmail.com
SPECIALTY : Psychotherapy

EMAIL : toobazf@gmail.com

QUALIFCATION: M.A. Counselling Psychology, Boston College, USA.

TYPE OF SESSIONS : Online only

TYPE OF CLIENTS : Ages 20+, Individual Therapy, Proficient in English and Urdu/Hindi

VIEWS :